Why Mercedes G-Wagons Are Great Off-Roaders
Written by Michaela Jackson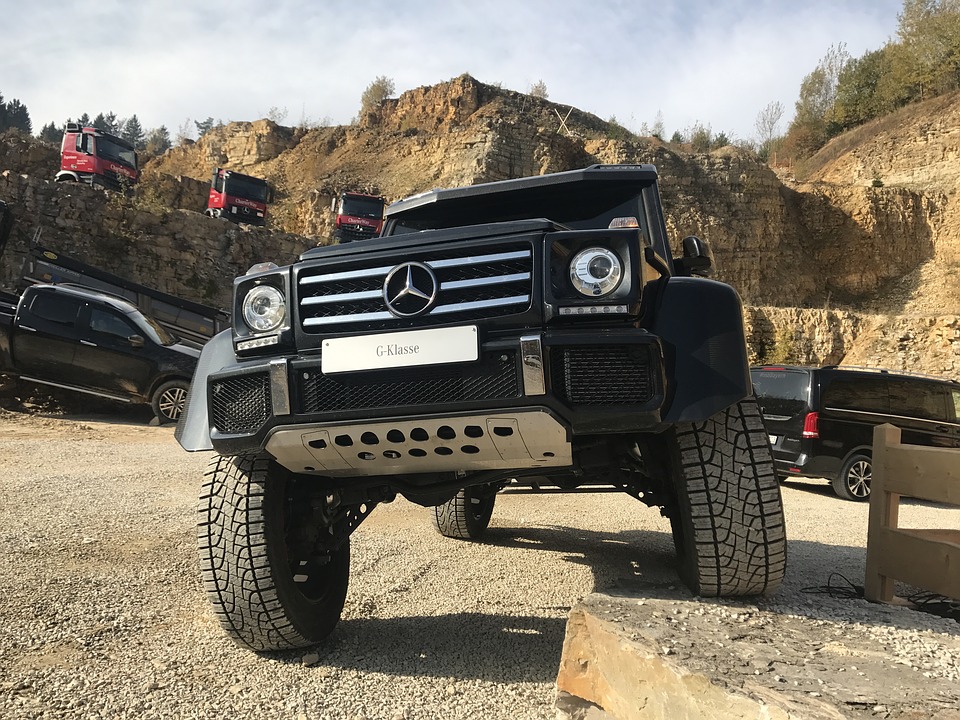 Everyone knows the famous G-Class Mercedes vehicle, also known as the G-Wagon. This car is a staple in pop-culture in America and everyone recognizes the G-Wagon as a popular celebrity vehicle of choice. One thing that the G-Wagon is also known for is its amazing off-road performance. Although it is a great vehicle for riding in A-list celebrity style, impressing everyone on the road, it is just as impressive when off-roading, rock crawling or even towing. If you are looking for plush comfort and luxury inside a vehicle that looks great and performs in extreme off-roading adventures, look no further than the Mercedes Benz G-Wagon.
History of the G-Class
In the early 1970s, a legend was born. The vehicle we now know as a global phenomenon was created to bring the comfort and luxury Mercedes-Benz is renowned for to an SUV that was capable enough to handle even the most extreme terrain with ease. The birth of this iconic vehicle, the G-Class, or Geländewagen, was as unique in looks as it was in durability and versatility.
The G-Wagen we know today is descended from a long line of all-terrain civilian vehicles from all the way back in 1948, when the world was still fresh out of the second World War. In Germany an engineer who worked for Daimler-Benz (which would later be bought by Mercedes) created the first, and oldest, ancestor of the G-Class: the Unimog, formed from the acronym Universal Motor Gerät (source). This massive vehicle made for civilian use more closely resembled heavy-duty equipment used in WWII.
It was 1973 that brought the first official G-Class vehicle designs into existence. Because the vehicle was created to be so sturdy and robust it was divided into two subsections of model lines, one for the military and one for civilians. Although they possessed differing utilities, much of the base was the same for both model lines, including their all-wheel-drive, angular and rugged outside appearance, and large tires for outdoor rock-climbing escapades.
Flash forward to 1979, which marks the year of the first G-Wagons built by hand in Austria. The newest member of the Mercedes-Benz enterprise came in two-door convertible, two-door wagon, and four-door wagon (source). Although the G-Class is an extremely popular vehicle in America today, it was not mass-exported to the United States officially until after it had been out for about a decade (source).
The G-Wagon has been incredibly popular since its first wheels hit the road. In fact, it was so popular that a modified version of it was personally requested by the Pope to allow him to stand up to greet the masses when making his special appearances in public. It was created to sport a clear box on the roof to make for easy standing room and allowed for the Pope to see his followers and for them to see him.
Soon the 1990s came and brought with it a re-vamp for the G-Class. From rough, tough and tumble to a luxurious wood-trimmed cabin with all the latest 90's tech. However, the 1990's are not where these upgrades stopped. In fact, it is really where they began.
Since then, Mercedes-Benz has always been improving with every new generation of G-Class they release. Upgrades include luxurious interior redesign, engine upgrades, the newest technology available, and the best comforts that are the trademark of Mercedes and the G-Class. However, they are known to make only small changes to the body of the car, which preserves the iconic look even over the decades and car styling fads. Most importantly, keeping the integrity of the body of the car means ensuring the G-Wagon stays top-notch in off-roading.
What is so Special About a G-Wagon?
There are several reasons why G-Wagons have become so special to cultures around the world, especially in America. Beginning with the trademark Mercedes-Benz quality that they invest into every vehicle. As cited in an article on driving.ca, the Mercedes-Benz G-Wagon us "an absolute legend" and "one of the most capable road-worthy off-roaders anywhere on the planet".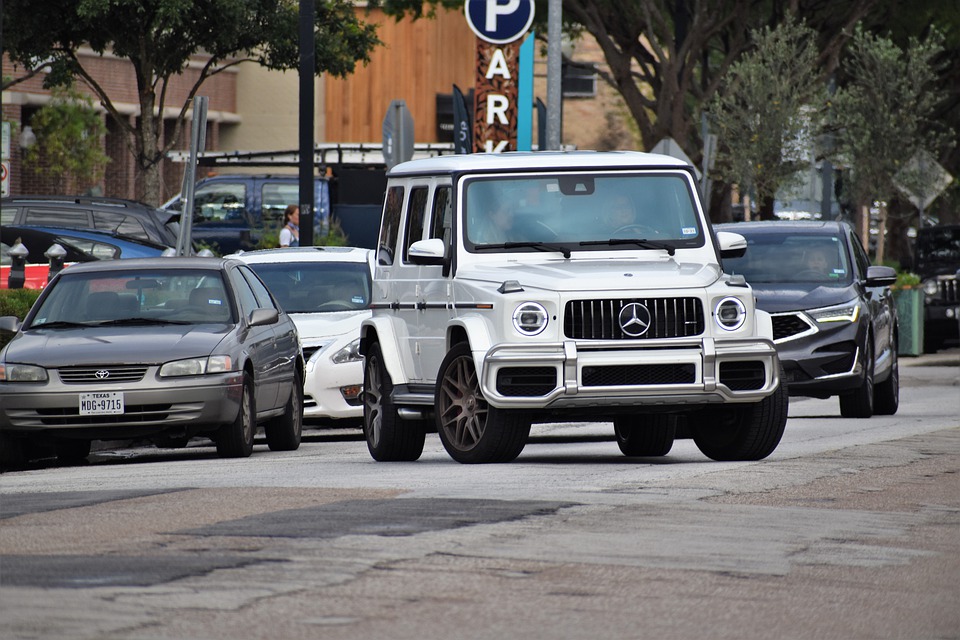 he G-Wagon masters the combination of luxury you can usually only get in on-road vehicles and the durability and endurance you can usually only get in off-road vehicles. This is the car of celebrities because of the style and modern comfort inside and out, but it is also the car of the most extreme off-roaders, overlanders, rock crawlers, haulers, and towers. It is the car chosen by governments across the world to protect important people because it is powerful and makes a statement while still being highly practical, luxurious, and durable. Undeniably it is a car that can play several important roles, which is part of why it endures through the years as a highly popular vehicle.
G-Class as Off-Roaders
One of the most special and impressive things about G-Wagons is their incredible off-road abilities. Although the G-Wagon is famous for pomp and circumstance, or being a vehicle celebrities ride around L.A. with, it should also be recognized for what it was originally designed for – off-roading with style and in comfort.
Perhaps this is because of its origins as a military-focused vehicle, its ancestors born in the heat of wartime. The Shah of Iran in the 1970s recognized that this military vehicle should be made. The result has been one of the most well-known off-roading SUVs since the activity of off-roading became popular.
If you need to be convinced with specs, here is some interesting facts about the G-Class for you from cnet.com and their Emme Hall's article all about how great the G-Wagon is at off-roading:
Twin-Turbo V8
All-Wheel Drive
2.91:1 low gear ratio, resulting in more torque multiplication at slow off-road speeds
Can shift from high to low range at speeds of up to 25 MPH and back into high up to 43 MPH
Three locking differentials, which means excellent traction control (making the G-Wagon a famously great rock-crawler)
Some models include terrain management systems to automatically adjust the shocks
Extensive off-roading high-end tire options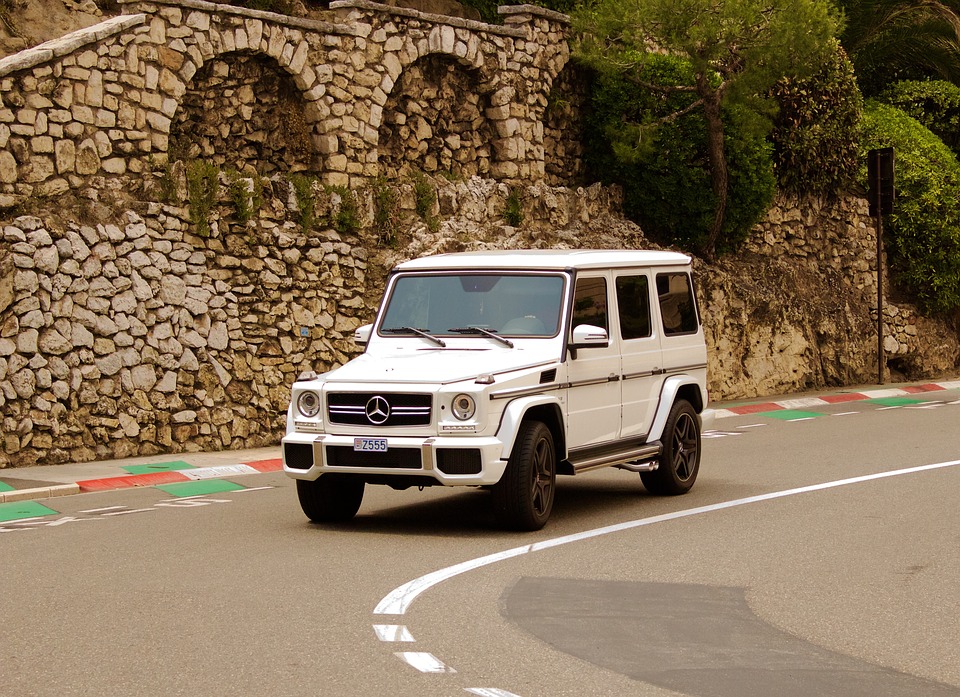 The Downside of the G-Wagon
As with every car, the G-Wagon does have its downsides. Where you might have to compromise is speed due to the G-Class signature boxy design. This means it will not be as optimized in the aerodynamics department.
A lot of large, luxury cars tend to not do well in gas mileage and the G-Class is no exception. However, what the vehicle lacks in gas mileage it makes up for in style, comfort, and ability. This does tend to come with a hefty price tag in the six-figure range, and further upgrades will inflate that price. Although if comfort, off-roading, and luxury are important to you, the G-Class provides the best of all three with its price.
The final downside of G-Wagons is that new models depreciate at a very quick rate. This is not new to the Mercedes brand, as many of their cars tend to quickly depreciate. On the bright side, their depreciation does end up plateauing and they hold their value at that rate. Some older models of G-Class even appreciate over time, which is extremely rare for a car from a luxury brand like Mercedes-Benz. This is because their classic body style is iconic, and they are "exotic" SUVs that perform very well otherwise and are great for stylistic and outdoorsy purposes. Celebrity and high-profile endorsement are also a big influencer.
Upgrades for Off-Roading in a G-Wagon
If you are looking to own a G-Class for off-roading, or even if you already own one that you love to off-road in, your experience can only be enhanced by modifying and upgrading your G-Wagon. The following is a list of some of the hottest off-road upgrades:
Roof Rack: For off-roading and overlanding trips a roof rack is great to store extra luggage whenever you are bringing lots of people along or are simply wanting some extra space in the cabin for the trip.
Lift Kit: One small inconvenience with off-roading in G-Wagons is that they do not have undercarriage clearance tall enough to safely travel through lots of water. If that is something you are interested in, consider a lift kit.
Body Protection: It is crucial to protect your G-Wagon when extreme off-roading. Even though it is an incredibly sturdy SUV, it is also very expensive. The better the protection you can get the better.
Winch: Safety is important and getting your large G-Wagon stuck while off-roading is not just inconvenient, it is dangerous. A winch is designed to help you get out of sticky situations that are prone to happen on off-roading trips.
Bull Bar: Just like protecting the body, the grill is a crucial part to protect as well. Also referred to as brush guards, any off-roading trip, especially into forest trails, needs this protection.
Light Upgrades: If you are looking for the one must-have upgrade for your G-Wagon to be ready to go off-roading it is LED lights. Your visibility in off-roading and how far ahead of you that you can see is crucial to off-roading safely.
Here is some more information on the importance of light upgrades for your G-Wagon.
OZ-USA's Phenomenal LED Lights
If you need LED lights of high-quality with HD performance that are some of the best lights on the market, visit OZ-USA. The lights made by OZ-USA are guaranteed to be easy to install, high-definition, and will light up your off-road journey to give you a safe off-road experience in your valuable G-Wagon.
OZ-USA has every kind of LED light for all your outdoor and off-roading lighting needs. Light bars are available for excellent wide-spread lighting. Spotlights and pod lights are also available for smaller, more pointed jobs. Scene lights are very popular for off-roading because they are efficient ways to light up your campsite at the end of a busy day.
If you ever have LED lighting needs for your G-Wagon or any other off-road car, trailer, or truck, OZ-USA provides lights that are not only efficient and use less power than other bulbs, but are also high-quality, easy to install, and shipped from California.
For more information or for questions about LED lights and OZ-USA, visit their website here or call at 619-618-0444.
Aftermarket LED turn signal upgrade with smoke lens for Mercedes G Wagon