Posted by oz-usa on 7th Sep 2020
Written by Michaela Jackson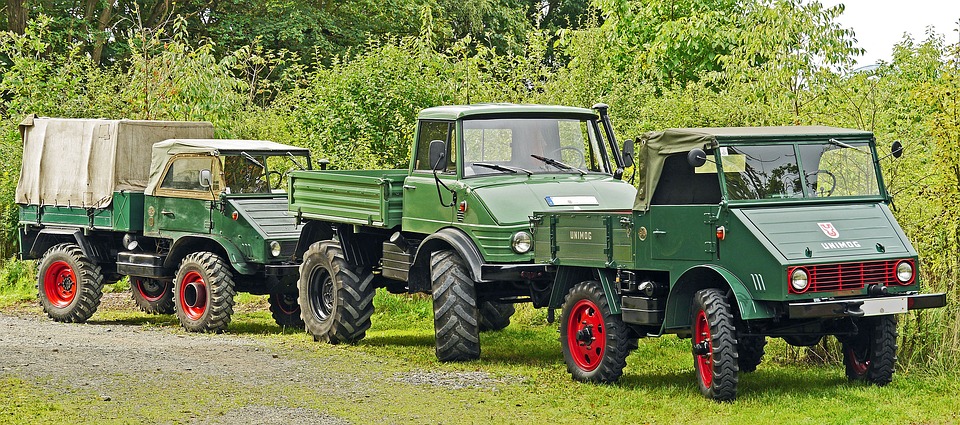 As one of the oldest extreme off-roading vehicles, the Unimog is one of the most unique and heavy-duty trucks on the market. A robust cross between a tractor and an off-road truck, the Unimog provides incredible power and performance in even the most extreme off-road environments and challenges.
The History of the Unimog
The name "Unimog" comes from the truck's true German name, "Universal Motor Gerät". Gerät means "device" in German.
The Unimog came right on the heels of WWII, one of the most trying times of the modern world, and its inspiration clearly came from the industrial vehicles used in the war. However, the reason the Unimog was created was far more innocent – for use in agricultural and lumber services. The unique design of the Unimog truck allowed for easy usage in such industries. With a giant chassis to hold extra power, extremely large off-road, tractor-like wheels, a fulltime all-wheel drive, huge clearance, and a wide truck bed, the Unimog brought both utility and militaresque style to a type of off-roading vehicles that were not usually seen for civilian use before.
Although Mercedes and its counterpart Daimler-Benz (a company which produces vehicles under the Mercedes brand) were not originally interested in the mass-scale production of the Unimog when it was first introduced in 1945, the company later bought the Unimog from its creator Albert Friedrich (a former Daimler-Benz employee) in 1950 due to its large range of utility and equally large demand.
Gaggenau, a German appliance manufacturer, took over the Unimog large-scale production efforts for Mercedes-Benz in 1951 (source). The simple but versatile design was proving extremely popular and useful for farmers especially and attracted the attention of governments around the world for its all-terrain capability. 1955 marked the production of the first Unimog S (404 series), featuring many improvements and tweaks to the design to cater to military applications. This model of Unimog was produced until 1980 and is a long-running favorite for Unimog enthusiasts.
The Unimog S, a military vehicle that was also available for civilians, and its smaller, basic civilian-centered counterpart, were not enough to meet the growing range of uses that the consumers demanded. This prompted the introduction of an even more diverse medium-duty series of Unimog, namely the Unimog 406. This series of Unimog trucks was deemed a "jack-of-all-trades" thanks to its ability to be used more seamlessly on and off road (source).
The wide acceptance of this new Unimog triggered the release of steadily-improving Unimog models throughout the years. Unimogs were being released from the smaller, original U 34 to the medium-duty U 70, U 80 and U84, along with many more including the 416 series, the lightweight 421/403 series, the 413 series, and the larger 425 series. The Unimog began to diverge from largely agricultural uses after Daimler-Benz introduced the MB-trac in 1972 to cater to that side of the market.
In the 1980s the Unimog range was re-vamped with the 407, 417, 427, and 437 series. This kept the classic Unimog structure but introduced use of the medium and heavy-duty cabs in the lightweight models and "new wheelbase lengths, dimensions, weights, chassis and engines" (source).
1992 saw the Unimog 408/418 series, which featured a redesigned cab with a heightened driver seat to offer a more panoramic view from within the cab. From the Unimog's inception to the Unimog U 2450 in 1993, the engines alone were upgraded considerably – their output increased almost tenfold (source).
Starting in 2000, the new U 300 – U 500 generation emerged as yet another renewal of the Unimog range. Of course, this re-vamp introduced even better technology, an even more comfortable cab, and a large, extended windshield. This release of Unimogs was followed by the move of Unimog's production headquarters to Wörth and the 2002 premieres of the U 300, 400, and 500 models, which are the most current as of yet.
The modern Unimogs feature the best in all-terrain vehicle technology and the signature Mercedes-Benz luxury comfort. Whether you are looking for the ultimate off-road adventure or a great heavy-duty work vehicle, the Unimog is a legendary truck to have.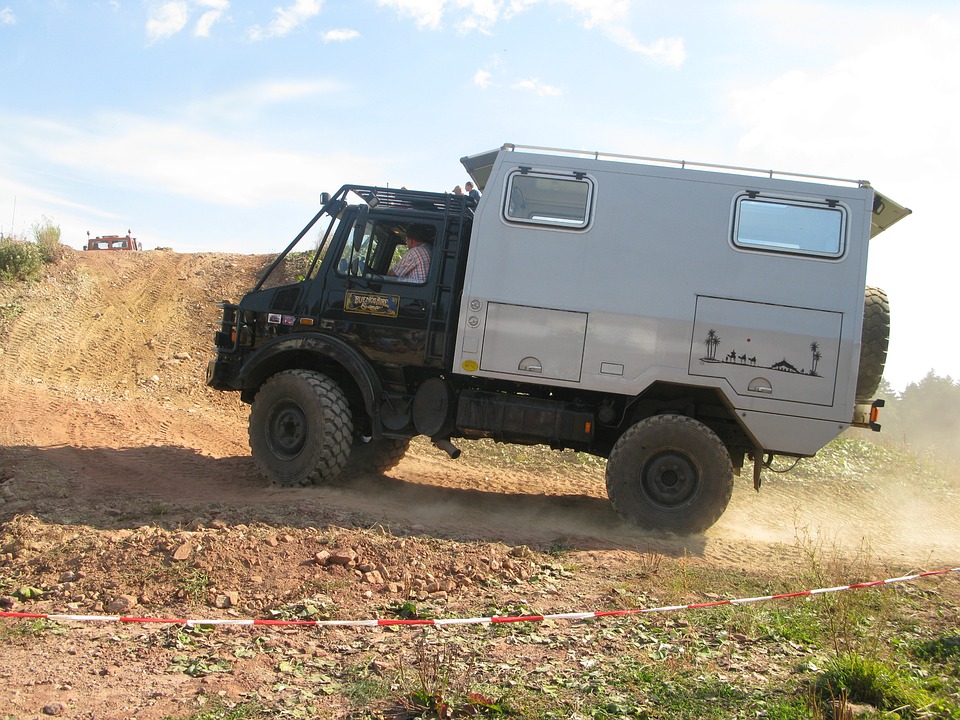 The Versatility of Unimogs
The Unimog makes for an excellent heavy-duty truck to help get tough jobs done in even tougher terrain. It is a popular vehicle for construction jobs that include transporting and powering equipment, forestry jobs that include hauling logs and wood chippers, agricultural jobs that include ploughing and hauling heavy farm equipment, and other jobs that include towing and heavy-duty work. In fact, the Unimog is a popular choice for firefighters who operate in rough terrain areas or areas that are prone to extreme snow and rain. They use the Unimog to haul hefty fire-fighting equipment, first aid equipment, and a team of firefighters.
Unimogs are also excellent transportation vehicles because they can traverse any terrain. They can be found being used in jungles, often for shipping food and other essential materials, as well as used in parks as forest ranger transportation. They are also used in exploration and touring rough terrains like savannahs, mountain paths, jungles, forests, and even sandy dunes.
Another extremely popular use for Unimogs is off-roading. These trucks were built for handling all terrains because they are all-terrain vehicles, four-wheel drives, and feature massive clearance due to its equally massive wheels, locking differentials, a spacious cab, and other valuable off-roading technology. This makes the Unimog a great choice for rock crawling, towing, dune bashing, green laning, overlanding and more (source).
Unimog trucks are also a prime choice for military use, especially their armored military-exclusive models. These trucks are great for military applications because of how versatile they are on and off road. There are also many older models of military Unimogs that are huge for collectors of military memorabilia.
USA Unimogs: A Rare Treasure
Although Unimogs unfortunately cannot be bought directly from Mercedes-Benz in the United States, there are plenty of specialized Unimog trading organizations and owners who live in America and can help connect you with a Unimog that needs a home.
Unimogs are not produced in the United States and are not typically imported unless it is by private enthusiasts. The one model that was imported into the US by Mercedes between 2002 and 2007 was the U500, but only 200 were sold. This makes original US-market U500s very rare, and they do not often come up for sale by the individuals who own them. Although there's no way to buy one of these new, this article by Road and Track shows off a listing for a US-market U500 Unimog at the hefty price of $369,000.
If you do not have your heart set on a US-market Unimog, the website Unimog Meister shows a great many listings for available Unimogs and Unimog parts, often from Germany or other places in Europe. This means they are being sold in European currencies like the Euro, but if you are passionate about owning one of these amazing all-terrain Unimogs they will assist in your search for one. Prices can range between €5,000 to over €100,000 depending on what you are looking for.
Restoring and Upgrading Unimogs
Older models of Unimogs are extremely valuable to collectors of the famous truck. There has not been a new release of Unimogs in a while, so it is common for Unimog owners to restore, refine and upgrade their Unimogs once they arrive.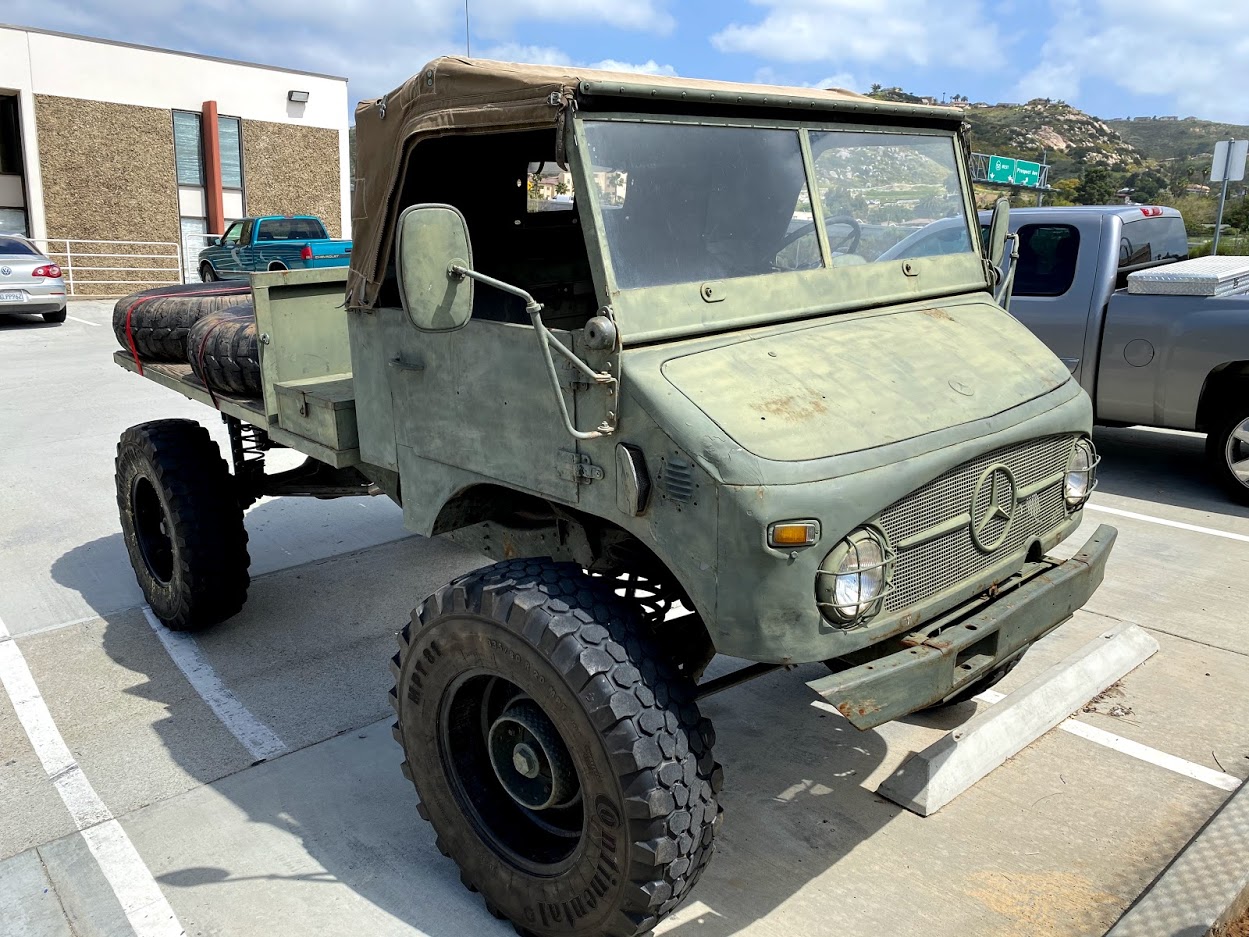 Some common upgrades for Unimogs include:
New, Updated Engine: Older, more dated engines can really take the punch out of your Unimog. Upgrading to the latest Mercedes technology, especially in terms of the engine, is a popular and well-worth-it upgrade.
Interior Upgrades: The older the Unimog, the more outdated the interior is likely to be. Although the Unimog was not made with comfort being the first and foremost priority, that does not mean that you should not pay a bit extra for more comfort and luxury. Interior upgrades can include reupholstering, bringing in modern technology like Bluetooth and GPS, seat warmers, and more.
New Tires: Worn tires will perform less when going off-road, and tires are often worn down through use and age. New tires are a worthy investment for your Unimog not only for looks but also for safety while going off-road.
LED Lights: Unimogs that are older often come equipped with faded, insufficient, fluorescent headlights. This means that driving them is less safe, especially if you are driving at night. It is important to upgrade to more power-efficient LED lights for your Unimog and is one of the less costly upgrades thanks to OZ-USA.
LED Lights for Your Unimog
Unimogs are a high-cost truck, but are also highly valuable and collectible. If you decide to get one, especially an older model, it is important to think about upgrading your lights. You may be thinking that you have already spent a lot on simply buying and transporting your Unimog, why do you need to spend any more on upgrades? Well, the fluorescent bulbs that come in older Unimog headlights are not only inferior in lighting quality but also are less efficient in power.
Thanks to OZ-USA's LED lights, you do not have to spend a fortune on upgrading your lights. The LED lights provided by OZ-USA are easy to install, power-efficient, high-quality, long-lasting, and bright enough to power your off-road adventures. Shipped from their California warehouse, these lights will not take nearly as long to get to you as your Unimog, and will greatly improve your Unimog off-road experience!
For more information about their lights and how they will fit with your Unimog, visit oz-usa.com or call them at 619-618-0444 with your questions or concerns.